Biographies
Bon Débarras unites the worlds of music, dance and poetry through a collaboration between Montreal artists Dominic Desrochers, Jean-François Dumas and Véronique Plasse. Over the years, Bon Débarras moved boldly into an entirely original repertoire steeped in poetry and rhythmic sounds, with unambiguous Quebec flavors. On guitar, banjo, violin and harmonica, the group carries an identity, a style and an energy-filled zest for life quite unique and beautifully served by the versatility of the musicians as well as their daring jigging and vivid body percussion. Bon Débarras' energy taps into the rhythms of today and ventures boldly on the multi-faceted road to tomorrow's dreams, in an atmosphere that transcends boundaries and ages.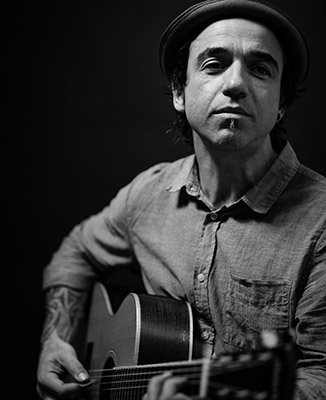 Dominic Desrochers
Dominic Desrochers' passion for sound and movement comes all the way back from those family gatherings, where singers, dancers and accordionists helped create his artistic vision. Over time, Dominic added another passion to music and poetry: percussive dance. Multi-instrumentalist, choreographer and founding member of Zogma, an urban folk group, Dominic is always willing to share his knowledge through educational workshops and master classes. His talent has been widely recognized by various organisations and groups like le Cirque du Soleil, La Bottine Souriante, Loco Locass and Les 7 doigts de la main. His approach is to make percussive dance an extension of oneself. His motto: "Scratch the sky, the earth gives you an itch, then beat the earth and the sky warms you up... All you can beat, bon appétit! There is jig a plenty at the banquet of your two feet".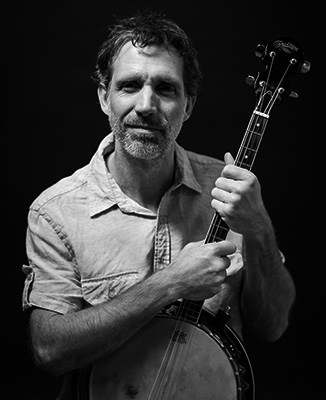 Jean-François Dumas
Talk about a one-man band! Accomplished multi-instrumentalist, Jean-François Dumas grew up in a family of musicians and singers where his early musical talent bloomed among songs and melodies from times past. At the age of 17, driven by a thirst for freedom, his guitar slung over his shoulder, he chose travelling to learn his trade. His journeys took him through the United-States, Latin America and Europe. There he discovered other peoples' folk traditions and colors, and nourished his boundless passion for musical interbreeding in which his own roots lie. Several participations to Noël dans le Parc (Christmas in the Park) as a performer and music director enabled him to stage shows convening artists of all cultures to help create ties between people and generations. Somehow, it's there that the trio Bon Débarras was born. Equipped with a solid musical knowledge and background, Jean-François has performed with many spirited artists among which La Bottine Souriante, Cedric Watson, Juan Sebastian Larobina and Edgar Bori.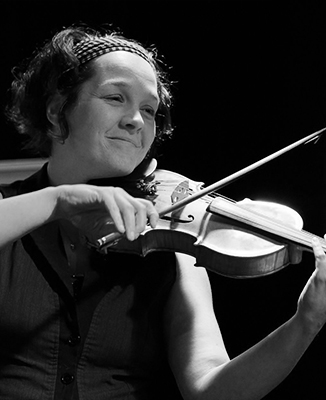 Véronique Plasse
Véronique Plasse, a trained actress and a musician, has joined the world of traditional music since a score of years, working at enhancing Québec cultural heritage. Her commitments and involvements are driven by goals which are at the heart of whatever she undertakes: creation, gathering, preservation and diffusion. Endowed with a very sensitive and positive energy, Véronique really enjoys bringing to the public her knowledge and a kind of cultural expertise she acquired through encounters and research. Spurred by her passion for Québec traditional music, this violinist and singer has been active on the international traditional folk scene for about 20 years. Recognized by her fellow trad musicians as a high-calibre performer, Véronique strongly believes that we must carry on the effort of creating moments and places where beauty, sharing and human interaction weave the threads of a sociocultural fabric we can all call our own. Latest addition to the Bon Débarras trad trio, Véronique performs also in several other significant projects: Beaton-Plasse, Les Commandos Trad, Barbo and Hurlevent.
Photos : Vitor Munhoz