News
Premiere of the show Repères in Montreal
At the Cabaret Lion d'or and online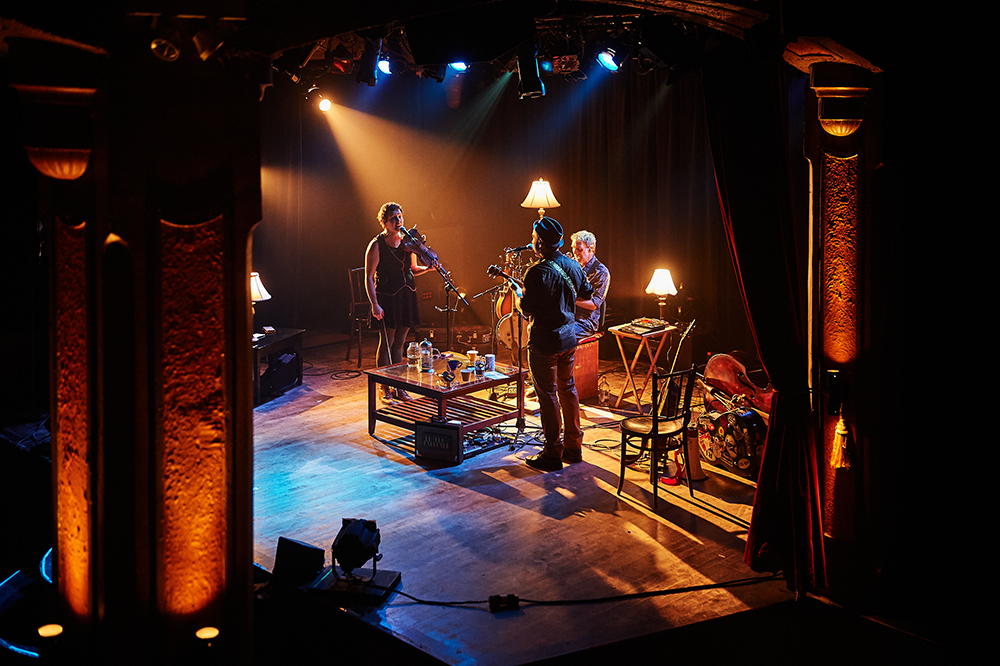 This new show highlights the reference points and core values that the band has relied on for its creative process since its beginnings. Identity bearings, geographical markers, linguistic and cultural reference points – these are "repères" in French. But most of all, encounters and discoveries leading to lyrics (Joséphine Bacon, Gaston Miron, Simon Gauthier, Gilles Vigneault) and musical collaborations (Michel Faubert, Cédric Dind-Lavoie). The trio relies also on various inner hideouts, dens or "repaires", multifaceted references forged through encounters, travels and life experiences. Their repères – milestones and markers – anchor solidly the band's music in Quebec traditions while giving it a touch of the world around the corner. From their repaires – hideaways, havens of refuge –, they come out with a renewed energy irresistibly calling for dancing!
* You can attend the show at the Cabaret Lion d'or or see the virtual version online.
Direction: Edgar Bori
Lighting designer: Lisandre Coulombe
Sound engineer: Louis Morneau
Bon Débarras unveils "Batèche"
A powerful new music video
Gaston Miron (1928-1996) is a well known poet in Quebec. His words, enhanced by close-ups on the musicians faces and supported by archive images of the National Film Board of Canada, plunges us in the resilience spirit of the Quiet Revolution. The rhythm of the poetry is emphasized by the folk-trad language of Bon Débarras and the slammed parts of the song. This story of anger that turns to resilience gains an incredible intensity through the eye of the producer JF Dugas and his team, Olivier Bolduc-Coutu and Louis Coutu.

* "Batèche" is a swear word that use to be frequently heard in Quebec.
Bon Débarras presents 2 web series
On Ondapart
During the past year, Bon Débarras has produced two web series for a brand new digital platform, Ondapart.


With "J'm'en viens chez-vous", the trio explores the origins and particularities of Quebec's traditional music. Those educational videos will please the youth and kids at heart!


"Bon Débarras en famille" celebrates the 15 years of existence of Bon Débarras. The former and actual members of the band are reunited around some of the signature songs of the group.


You can enjoy these web series at www.ondapart.com.